Top Five Things to Look for When Hiring a Lawyer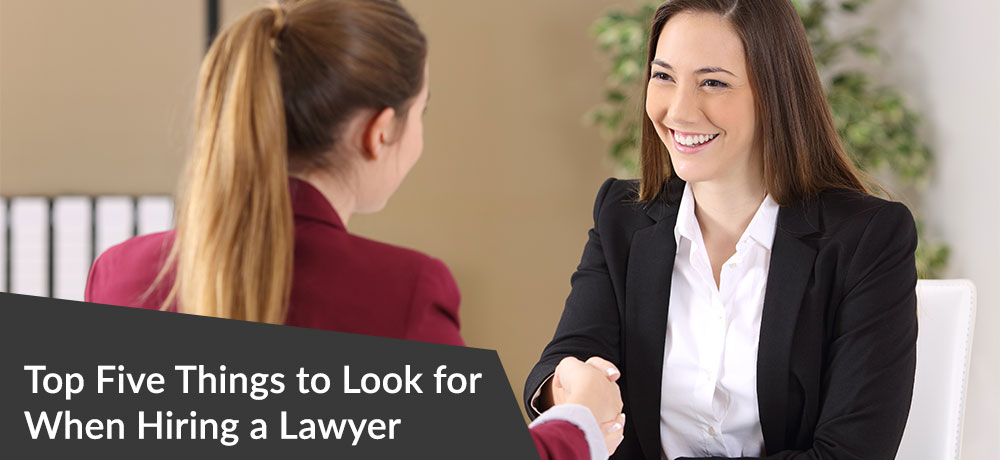 If you're facing a difficult situation like being charged with a crime or severe traffic offence, small claims matters, landlord tenant disputes, or divorce and child custody issues, one of the first steps you can take to protect yourself is to hire legal representation. A knowledgeable and experienced lawyer can help facilitate proceedings to resolve the issue quickly and improve your chances of a favourable outcome.
In addition to safeguarding your interests, hiring a lawyer can also alleviate the stress of a complex legal case. They will navigate the legal system on your behalf, provide professional advice, offer dispute resolution, represent you in court, and conduct settlement negotiations. Hiring legal assistance allows you to responsibly handle your case while staying focused on the things that matter to you.
If you need legal expertise and aren't sure where to start, we've compiled a list of the top five things to look for when hiring a lawyer.
Experience. Inquire about a potential lawyer's experience with your particular circumstances. Hire a legal counsel that has handled similar situations and is well-versed in your required area of law. For example, if you're getting a divorce, seek a family law lawyer with an excellent track record in divorce proceedings.
Reasonable fees. Legal fees can quickly add up based on the length and specifics of your case. Ask a potential lawyer about their fees during the initial consultation and hire someone who offers reasonable pricing for their service.
Honesty. A successful client/lawyer relationship depends on open, candid communication. Hire a lawyer that is honest with you about your legal position and his/her legal strategy.
People skills and personal compatibility. Choose a lawyer that is prompt and courteous on phone calls and during meetings with you. You may need to share sensitive details or confidential information with your lawyer, so it's important that you feel comfortable in all interactions.
Success rate. Though it doesn't guarantee a successful outcome, hiring a lawyer with a solid record of wins can increase your chances of a positive conclusion to your case.
Are you looking for legal representation and advice in the Greater Toronto Area? KLG Barristers and Solicitors offers superior legal expertise specializing in criminal law, and family law. The experienced team at KLG will work to find the best possible solution for your case in a timely matter.
To learn more, please visit www.klgtoronto.com.
---
---